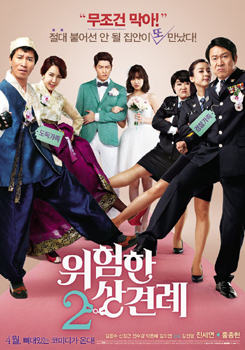 Originaltitel: 위험한 상견례 2
Alternativtitel: Clash of the Families 2
Herstellung: Südkorea, 2015
Regie: Kim Jin-Young
Darsteller: Hong Jong-Hyun, Jin Se-Yun, Shin Jung-Keun, Jeon Su-Kyeong, Kim Eung-Soo, Park Eun-Hye, Kim Do-Yeon, Kim Sun-Young, Jung Sung-Hwa, Kim Soo-Mi, Park Doo-Sik
Genre: Komödie
Laufzeit: ca. 119 Minuten
Freigabe:
Kinostart: 30.04.2015
Veröffentlichungen:
Inhalt:
Chul-Soo ist der einzige Sohn einer legendären Gangsterfamilie. Er verliebt sich in Young-Hee, die eine Polizistin ist. Als ob dies noch nicht genug ist, ist ihre ganze Familie bei der Polizei. Um die Erlaubnis ihrer Familie zu bekomme, seine Liebe zu heiraten, will er Polizist werden. Beide Familien versuchen dies aber zu verhindern...
Weitere Teile:
Trailer:
Content embedded from external sources will not be displayed without your consent.
Through the activation of external content, you agree that personal data may be transferred to third party platforms. We have provided more information on this in our privacy policy.
Bilder: