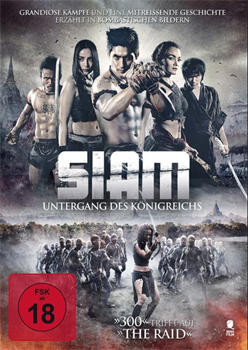 Originaltitel: Siam Yuth: The Dawn of the Kingdom
Herstellung: Thailand, 2015
Regie: Thanawut Ketsaro
Darsteller: Thai Anh Bui, Thira Chutikul, Thanawut Ketsaro, Than Thanakorn, Thanayong Wongtrakul
Genre: Action
Laufzeit: ca. 88 Min.
Freigabe: Deutschland: ab 18
Kinostart: 15.10.2015
Veröffentlichungen:
Blu Ray Deutschland 01.02.2018 (Tiberius Film)
DVD Deutschland 01.02.2018 (Tiberius Film)
Inhalt:
Im altern Kaiserreich Siam sind grausame Zeiten angebrochen... Eines Tages erreichen die Brüder Thap und Sin, die heimatlos durch das Land ziehen, ein Dorf, das wie viele andere von dem brutalen Heerführer Khun Ram restlos zerstört wurde. Khum Ram hat nur ein einziges Ziel. Er will dem Prinzen Jantaboon die Macht entreißen und selbst an die Spitze des Königreiches treten. Thap schwört Rache und Gerechtigkeit für die Toten des Landes und reist in die Hauptstadt, um sich dem brutalen Intriganten entgegen zu stellen. Dort trifft er auch Tim, eine wunderschöne und furchtlose Kriegerin. Thap nimmt gemeinsam mit seinen heimlichen Verbündeten den schier aussichtslosen Kampf gegen den machtgierigen Khun Ram und seine Männer auf...
[quelle]Tiberius Film[/quelle]
Trailer:
Content embedded from external sources will not be displayed without your consent.
Through the activation of external content, you agree that personal data may be transferred to third party platforms. We have provided more information on this in our privacy policy.
Bilder: