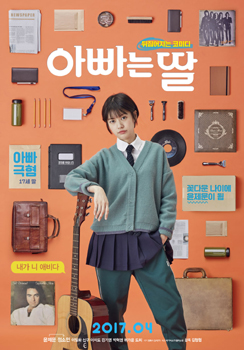 Originaltitel: 아빠는 딸
Alternativtitel: Dad is Daughter
Herstellung: Südkorea, 2017
Regie: Kim Hyung-Hyub
Darsteller: Jung So-Min, Yoon Je-Moon, Lee Il-Hwa, Shin Goo, Lee Mi-Do, Kang Ki-Young, G.O, Min Do-Hee, Heo Ga-Yoon, Lee You-Jin, Lee Jung-Soo, Park Myeong-Su
Genre: Komödie
Laufzeit: ca. 115 Min.
Freigabe: Korea: ab 12
Kinostart: 13.04.2017
Veröffentlichungen:
DVD Korea: 04.09.2017 (Video Travel)
Inhalt:
Do-Yeon hat keine gute Beziehung zu ihren Vater der nur rumnörgelt. Do-Yeons Traum ist es, einmal auf ein Date zu gehen. Ihr Vater arbeitet schon seit Jahren in der Firma und steht kurz vor der Beförderung. Als Beide ihren Zielen näher kommen, tauschen sie ihre Körper....
Sonstiges:
Der Film basiert auf ein Buch von Takahisa Igarashi, namens "Papa to Musume no Nanokakan"
Das Buch wurde schon einmal in der japanischen Serie "Seven Days of a Daddy and a Daughter" verfilmt
Trailer:
Content embedded from external sources will not be displayed without your consent.
Through the activation of external content, you agree that personal data may be transferred to third party platforms. We have provided more information on this in our privacy policy.
Bilder: