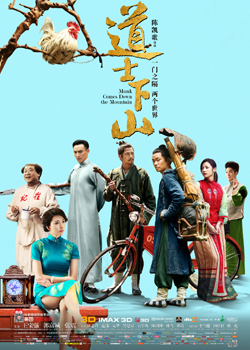 Originaltitel: 道士下山
Herstellung: China, 2015
Regie:
Darsteller: Wang Baoqiang, Aaron Kwok, Chang Chen, Lin Chiling, Fan Wei, Vanness Wu, Danny Chan, Lam Suet, Jaycee Chan, Tiger Chen
Genre: Drama, Eastern
Laufzeit: ca. 109 Min.
Freigabe: Deutschland: ab 12
Kinostart: 03.07.2015
Veröffentlichungen:
DVD Deutschland: 19.05.2016 (Sony)
Inhalt:
Der gefeierte Regisseur (Lebewohl, meine Konkubine) erzählt in diesem Martial Arts Film vom jungen Mönch He Anxia, der sich auf eine abenteuerliche Reise begibt. Zum ersten Mal erlebt er die Strapazen, Härten und Versuchungen des Lebens und trifft unterwegs auf viele Meister, darunter den Opernsänger Boss Zha (Chen Chang, Tiger and Dragon) mit einem Faible für Speere und den Besen-schwingenden Taoisten Zhou Xiyu (Popstar Aaron Kwok). In dieser Fabel über Gut und Böse verleihen die meisterhaften und erstaunlichen Kampfszenen dem Genre des Martial Arts Films ganz neue Dimensionen.
[quelle='Sony']http://www.sphe.de/movie/3119/monk-comes-down-the-mountain[/quelle]
Trailer:
Content embedded from external sources will not be displayed without your consent.
Through the activation of external content, you agree that personal data may be transferred to third party platforms. We have provided more information on this in our privacy policy.
Bilder: