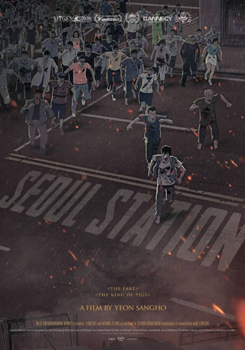 Originaltitel: 서울역
Herstellung: Südkorea, 2014
Regie: Yeon Sang-Ho
Darsteller: n/a
Genre: Animation
Laufzeit: ca. 100 Min.
Freigabe: Deutschland: ab 16
Kinostart: 18.08.2016
Veröffentlichungen:
Blu Ray Deutschland: 03.02.2017 (Splendid) - Als Bonus im Train to Busan Mediabook
Blu Ray Deutschland: 31.03.2017 (Splendid)
DVD Deutschland: 31.03.2017 (Splendid)
Weitere Filme:
Inhalt:
Seoul Station, nach Sonnenuntergang. Ein Obdachloser stirbt langsam an seinen Verletzungen. In der Nähe der Station, in einer dunklen Allee frisst dieser Obdachlose einen Anderen. Die Straßen um dieser Station werden bald von Wahnsinnigen bevölkert, die andere Menschen fressen.
Hae-sun ist eine Ausreißerin und lebt zusammen mit ihren Freund, Gi-woong, in einen alten Hotel. Nachdem er sie zur Prostitution zwingen will, macht sie mit ihm Schluss. Allein und hilflos steht sie nun in einer grausamen Welt und weiß nicht wohin. Suk-gyu, ihr Vater, sucht verzweifelt nach seiner Tochter.
Hae-sun sieht wie sich die Leute wie Tiere benehmen und rennt um ihr Leben. Ihr Vater ist mitlerweile in dem Hotel angekommen, wo er sie vermutet. Er schnappt sich Gi-woong, um mit ihm nach seiner Tochter zu suchen. Doch beim verlassen des Hotels werden sie vom Inhaber angegriffen, der sich auch schon in einen Wahnsinnigen verwandelt hat. Können sie das Mädchen finden bevor die Anzahl der Zombies noch weiter ansteigt?
Trailer:
Content embedded from external sources will not be displayed without your consent.
Through the activation of external content, you agree that personal data may be transferred to third party platforms. We have provided more information on this in our privacy policy.