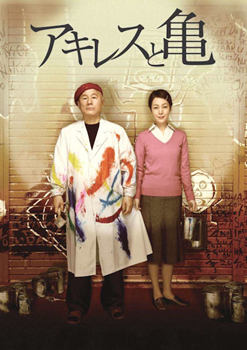 Originaltitel: アキレスと亀
Herstellung: Japan, 2008
Regie:
Darsteller: , Kanako Higuchi, Yurei Yanagi, Kumiko Aso, Reiko Yoshioka, Akira Nakao, Mariko Tsutsui, Masato Ibu
Genre: Drama
Laufzeit: ca. 119 Min.
Freigabe:
Kinostart: 20.09.2008
Veröffentlichungen:
Blu Ray Deutschland: 27.05.2016 (Capelight Pictures) - Als Bonus im Outrage Beyond Mediabook
Inhalt:
Machisu hat seit seiner Kindheit eine große Begabung fürs Malen und Zeichnen. Jedoch sterben seine Eltern während Machisu Kindheit. Da er sich der Kunst hingibt, hat Machisu in seiner Jugend keine Freunde und kaum Geld. Eines Tages trifft er Sachiko, welche von sich aus sagt, dass sie seine Kunst verstehe. Die beiden heiraten und Sachiko unterstützt Machisu bei all seinen Ideen.
"Kame" heißt die Schildkröte auf Japanisch. Das Paradoxon von Achilles und der Schildkröte, in dem der Athlet das Reptil bei einem Rennen nie einholen kann, nahm Kitano als Parabel für die beinhart wundervolle Geschichte von Machisu, der für die Kunst lebt und alles opfert, um sie zu gewinnen. Achilles to kame ist nach Takeshis' (2005) und Glory to the Filmmaker (2007) der dritte Teil von Takeshi Kitanos bunter Filmtrilogie um
Freud und Leid des Künstlertums.
Quelle: Wikipedia + skip.at
Trailer:
Content embedded from external sources will not be displayed without your consent.
Through the activation of external content, you agree that personal data may be transferred to third party platforms. We have provided more information on this in our privacy policy.
Bilder: