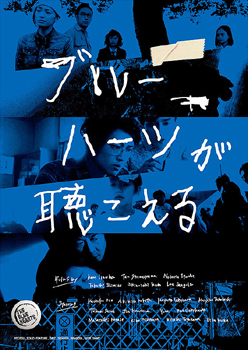 Originaltitel: ブルーハーツが聴こえる
Herstellung: Japan, 2017
Regie: Ken Iizuka, Ten Shimoyama, Noboru Iguchi, Takashi Shimizu, Shinichi Kudo, Sang-il Lee
Darsteller: Machiko Ono, Akihiro Kakuta, Hayato Ichihara, Maryjun Takahashi, Takumi Saito, Jun Kaname, Yuka, Reo Uchikawa
Genre: Kurzfilmsammlung
Laufzeit: ca. 159 Min.
Freigabe:
Kinostart: 08.04.2017
Veröffentlichungen:
Inhalt:
6 Regisseure nehmen sich jeweils einen Song der japanischen Punkband The Blue Hearts vor und drehen einen davon inspirierten Kurzfilm
Trailer:
Content embedded from external sources will not be displayed without your consent.
Through the activation of external content, you agree that personal data may be transferred to third party platforms. We have provided more information on this in our privacy policy.
Bilder: