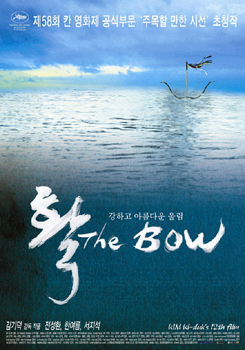 Originaltitel: 활
Alternativtitel: The Bow
Herstellung: Südkorea, 2005
Regie:
Darsteller: Jun Sung-Hwan, Han Yeo-Reum, Seo Ji-Suk, Jeon Kuk-Hwan, Kim Ik-Tae, Jo Suk-Hyun, Kong Yoo-Seok, So Jae-Ick, Jang Eun-Ah
Genre: Drama
Laufzeit: ca. 88 Min.
Freigabe: Deutschland: ab 12
Kinostart: 12.05.2005
Veröffentlichungen:
DVD Deutschland: 21.05.2010 (Rapid Eye Movies)
Inhalt:
Ein alter Mann (JEON Sung-Hwan) und ein Mädchen (HAN Yeo-Reum) leben alleine auf einem Boot. Seit der Fischer das Mädchen im Alter von sechs Jahren bei sich aufnahm, hat sie das Boot nicht verlassen. Mittlerweile ist sie 16 und in drei Monaten soll die Hochzeit der beiden sein. Die intimen Rituale, die sie schweigend begehen, werden jäh unterbrochen, als ein junger Student (SEO Ji-Seok), der das Boot besucht, das Interesse des Mädchens weckt. Der Bogen, mit dem der Mann sonst Orakel oder auch zarte Melodien spielt, entwickelt sich zum Gegenstand sexueller Macht und bringt die Schicksalsgemeinschaft auf dem Boot aus dem Gleichgewicht.
[quelle='Rapid Eye Movies']http://rapideyemovies.de/edition-asien-hwal-der-bogen/[/quelle]
Trailer:
Content embedded from external sources will not be displayed without your consent.
Through the activation of external content, you agree that personal data may be transferred to third party platforms. We have provided more information on this in our privacy policy.
Bilder: