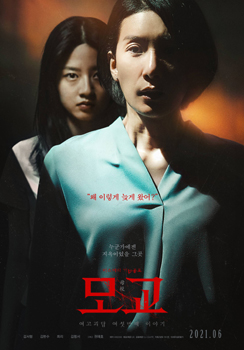 Originaltitel: 여고괴담 여섯번째 이야기: 모교
Herstellung: Südkorea, 2021
Regie: Lee Mi-Young
Darsteller: Kim Seo-Hyung, Kim Hyun-Soo, Choi Ri, Seo Hye-Won, Park Se-Hyun, Kwon Hae-Hyo, Park Se-Hyun, Lee Ji-Won
Genre: Horror
Laufzeit: ca. 108 Min.
Freigabe: Korea: ab 15
Kinostart: 17.06.2021
Veröffentlichungen:
DVD Südkorea: 31.08.2022 (Video Travel)
Weitere Filme:
Whispering Corridors (1998)
Ghost Voice (2005)
Whispering Corridors 6: The Humming (2021)
Inhalt:
Eun-Hee hat ihre Erinnerungen an ihre Highschool-Zeit verloren. Sie fängt an, als stellvertretende Rektorin der High School zu arbeiten, an der sie ihren Abschluss gemacht hat. Seitdem sie dort arbeitet, erlebt sie unbekannte Phantasmen und auditive Halluzinationen.
Trailer:
Content embedded from external sources will not be displayed without your consent.
Through the activation of external content, you agree that personal data may be transferred to third party platforms. We have provided more information on this in our privacy policy.